From Data to Action using Visualization at Walmart
LIVE Webinar
DATE

Tuesday, October 3rd, 2017 

TIME

10 AM PT / 12 PM CT / 1 PM ET

DURATION

60 mins
---
MORE INFORMATION:
Data is powerful. It can both inform and inspire—and can even be a catalyst for change. In this session, Walmart and Teradata will discuss critical success factors for leveraging data to create business value at scale. A key theme will be how to go beyond "pretty" visualizations to "actionable" visualizations. Democratizing access to data throughout the enterprise—from corporate headquarters all the way into stores—creates actionable insight with the right data to the right decision-makers in the right form to yield breakthrough business results. Register now.
SPEAKERS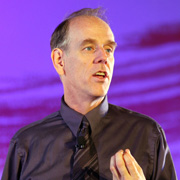 Stephen Brobst
   Chief Technology Officer
   Teradata
Stephen Brobst is the Chief Technology Officer for Teradata Corporation. Stephen performed his graduate work in Computer Science at the Massachusetts Institute of Technology, where his Masters and PhD research focused on high-performance parallel processing. He also completed a MBA with joint course and thesis work at the Harvard Business School and the MIT Sloan School of Management. Stephen is a TDWI Fellow and has been on the faculty of The Data Warehousing Institute since 1996. During Barack Obama's first term, he was also appointed to the Presidential Council of Advisors on Science and Technology (PCAST) in the working group on Networking and Information TechnologyResearch and Development (NITRD). He was ranked in 2015 by ExecRank as the #4 CTO in the United States (behind the CTOs from Amazon.com, Tesla Motors, and Intel) out of a pool of 10,000+ CTOs.
  Heidi Daniels
   Director of Engineering, Data and Analytics Technologies, Walmart Labs
   Walmart
In her role Heidi is instrumental in helping Walmart Stores, Inc solve some of the biggest problems in the world. Her Data and Analytics tools enable Walmart leadership to ask and answer questions that help serve the more 260 million customers that visit our stores every week. Heidi is an accomplished leader with a background in technology and business facing roles, including Data Center management, network systems, and cloud computing. She started her 20 year career on the Data Warehousing group supporting Teradata. She holds a Bachelor's of Science in Information Systems Technologies from Southern Illinois University.